Dental Implants

Irvine, CA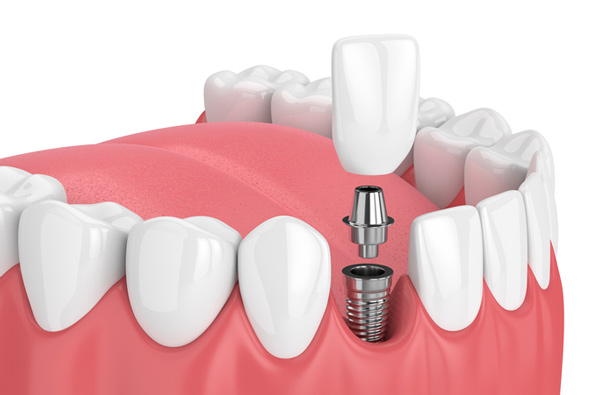 As the base of replacement teeth for any missing or damaged teeth, dental implants are titanium screws, cylinders or plates, positioned beneath the gumline surgically by an oral surgeon. Unlike a denture, an implant does not come loose or affect natural surrounding teeth. Dental implants are used because they are safer and easier to care for. They look completely natural and are a permanent solution that does not hinder your speech and eating.


What Is the Procedure for Dental Implants?

An oral surgeon first examines whether a patient's current bones and gums will support dental implants or not. Dental implants are only inserted if the current bones are adequately thick and hard and are not located too low or too high. Then a specific plan is created for the patient's surgery. There are two types of procedures.

The first procedure is called endosteal implants. The implant is surgically placed directly into the jawbone. Once the surrounding gums are healed, second surgery connects a post to the implant. Finally, an artificial tooth is attached to the post.

Subperiosteal implants are used if the patient is suffering bone loss. First, experienced surgeons cut open the gum tissue to comprehend where the framework will sit, then stitch to close it. Next, a customized metal framework is prepared to be placed on the bone. In the second step, the gum tissue will be reopened so the implant can be placed on the bone, leaving metal extensions protruding from the gum. Once the gum has healed, the oral surgeon attaches a natural-looking artificial tooth to it.


What Are the Advantages of Dental Implants?

Dental implants are a replica of your teeth, so they appear completely natural. You do not feel the implants, as they become permanent teeth. Because dental implants fit well, they do not cause your speech to slur or induce pain while eating.

The greatest benefit of getting implants is that you do not have to worry about removing them or taking special care of them, and they are very durable and long lasting. You can follow your usual dental hygiene routine in order to take care of them.


How Are Implants Different from Dentures?

The main difference is that dentures are removable, but implants are fixed. Dentures involve more aftercare than implants. Another difference is that getting dentures is not a permanent solution, and changes in the tooth's shape or nearby teeth's shape requires the patient to change their dentures. However, if a person has dental implants, changes in teeth or gums would not affect them at all. Dentures do not look natural, but natural-looking dental implants let you smile with confidence. Lastly, dentures need to be replaced every few years while dental implants are permanent and unbreakable.


Schedule Your Consultation

If you're interested in getting dental implants or want know more about them, contact, Irvine Dentistry at (949) 656-2933 today. Our team can't wait to hear from you.